The Problem
Yamato Scientific is a world-renowned, international manufacturer of the best lab-scale spray dryers on the market. And they wanted to sell more.
So we did some research. A lot of research, actually. We left no stone unturned, and researched the heck out of untapped opportunities. 
Our research showed the best emerging market for spray dryers is the rapidly growing cannabis industry. And that new businesses in the cannabis space don't always turn to traditional lab suppliers for their instruments.
"In 2018, we signed on for a small contract with Journey to test the waters. We quickly realized the value they brought to Yamato. That's why, every year since, we've expanded our collaboration with them. Today, we confidently reinvest and grow this partnership, knowing they drive results. This year, we undertook our largest collaboration yet. Journey successfully helped us launch the Transforming Cannabis brand by developing an impressive new microsite and monthly campaigns."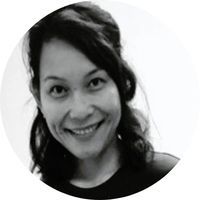 Marivic Lastimosa
Marketing Manager, Yamato USA
The Solution
Journey's team of experts put our heads together. And we came up with a solution.

To build a uniquely-branded microsite with a full set of marketing assets, targeting cannabis product growers, manufacturers, distributors, and retailers.

To create a new brand, and establish them as a thought leader in the cannabis industry.

To educate individuals at every stage of the supply chain about the unique features of an emerging product, spray dried cannabis, and highlight the benefits it brings to their business, their consumers, and their bottom line.

To shape the conversation, and the future of cannabis.

This is how Transforming Cannabis was born. It is a brand. A website. A marketing strategy. A thought leadership piece.

Most importantly, it's the solution Yamato was looking for.
---
Introduction

Yamato is a leading scientific lab equipment provider. They know how to speak to their customers.

But slapping Yamato's traditional marketing strategy onto this new opportunity wasn't going to cut it. And a makeshift approach to this new market, filled to the brim with potential and new customers, wasn't going to make it successful.

We needed to think big. Think outside the box. Understand the market, the opportunities, the pitfalls. And seize this moment in time where we could establish Yamato as a leader in an evolving, but oversaturated industry.

Luckily, thinking outside of the box is what Journey does best. Our experts teamed up with Yamato's experts to develop a comprehensive, multi-faceted strategy to launch a new brand.

One that involved:

- Creating a new brand, new logo, and compelling design assets
- Launching a new website, permission assets, and blogs
- Researching the market and creating a curated list of prospective customers
- Writing powerful email campaigns that drive action
- And measuring leads and results, every step of the way. 

Research showed us that the best emerging market for spray dryers was the cannabis industry. The opportunities were there, across the supply chain, from manufacturers and distributors, to retailers and even growers.

Research also showed that new businesses in the cannabis space don't turn to traditional lab suppliers (like Yamato) for their instruments. They trust suppliers who know their industry. They buy from suppliers who understand their needs, and speak directly to them.

So, we knew that adding a landing page on Yamato's website wouldn't cut it. And, it could end up confusing their existing customers.

The answer? Create a new brand. A new logo. A new website. A new voice. A new marketing strategy. All of which strategically and specifically targeted the cannabis industry, and set Yamato up as a thought leader in the space.

And so, a whole new brand emerged, and we began transforming cannabis.
---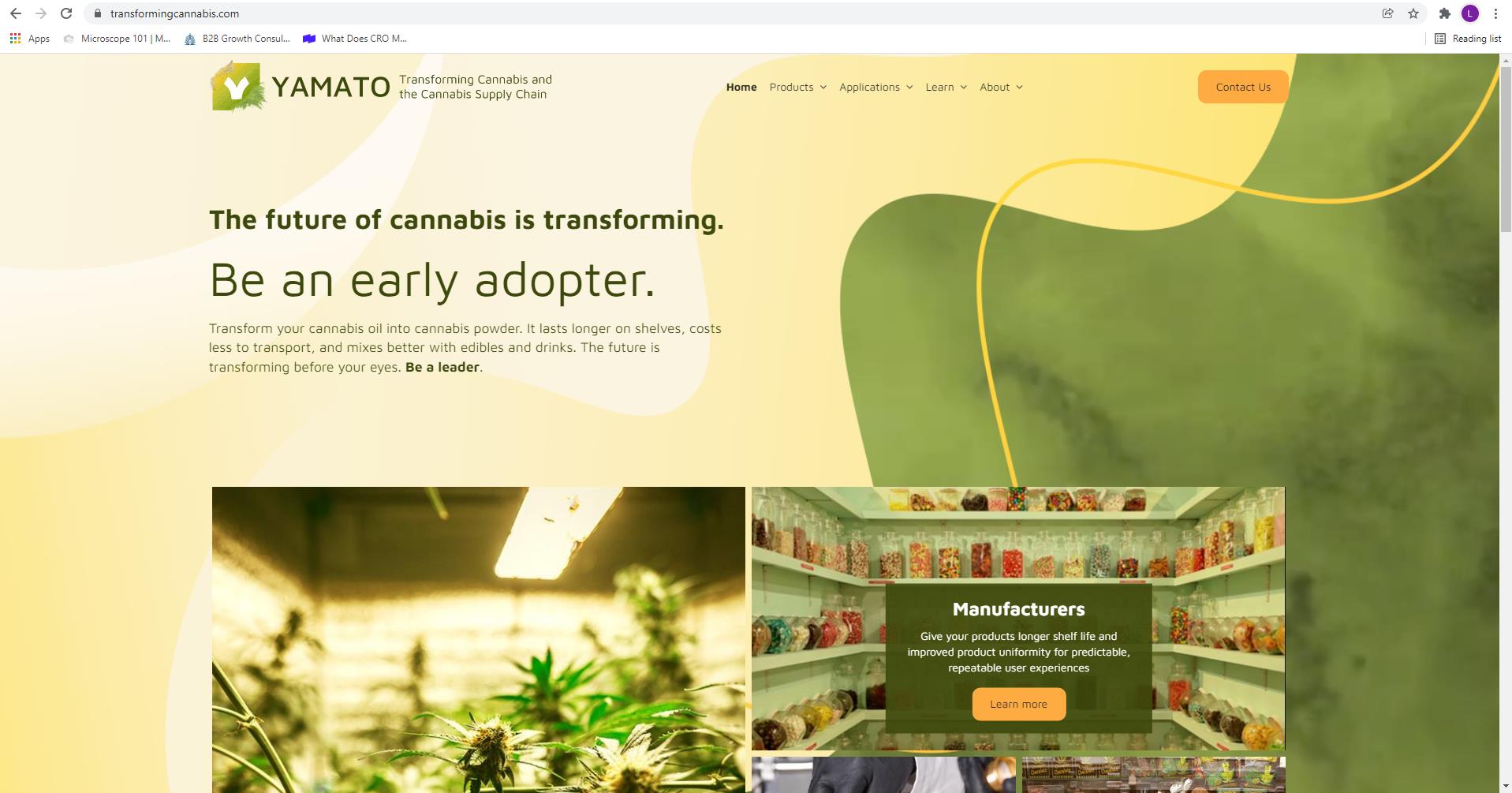 The first priority was to create a stunning, sleek, intuitive new website. One that looked like it belonged in the cannabis space. All content on the website leans into education, because the application of spray dryers in the cannabis industry  is relatively new. That's why the compelling and engaging web content outlines the value proposition to each target market clearly.
The design: We researched the best cannabis websites on the market, and made them better. Every element and every page of TransformingCannabis.com was designed to both fit into, and stand out from, the competitive cannabis market.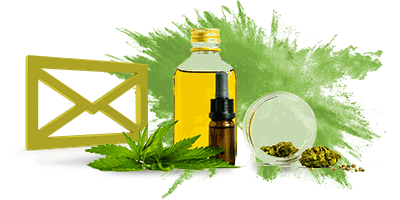 From the new logo to the site colors, we incorporated powerful imagery that would resonate with visitors.

And because Transforming Cannabis is one of the first companies to promote the use of lab-scale spray dryers to create powdered cannabis, the green, powder imagery exists on every page as a powerful reminder of the opportunities that spray dried cannabis powder holds.

The site also contains unique design assets and graphics on every page, which we were able to repurpose on other platforms (including in emails and on social media). 
The optimization: Search engine optimization (SEO) is the key to success for any website. When pages are optimized for the search terms real people are typing into Google (or Bing, or Microsoft Edge), it means that potential customers are finding you organically.

That's why every page on the Transforming Cannabis site was optimized, to rank high in search results. Week after week, pages are climbing in the rankings, and bringing organic leads to our client. 

The content: The website content was organized both by product and by application. Each subsection of the industry has an optimized landing page, and each product has a landing page optimized for the cannabis industry.

Product pages featured top-selling equipment used in the cannabis industry, like Yamato's rotary evaporators and vacuum ovens. Each product page was optimized, and described the product's benefit and unique sales propositions.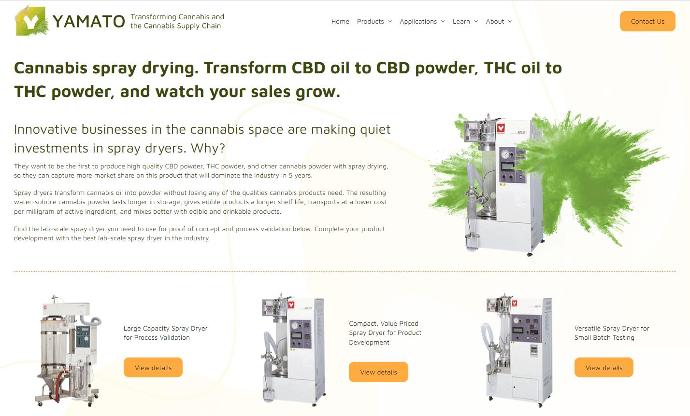 The main product page: spray dryers. Because this is a new application in the cannabis industry, the spray dryer page describes a) how spray drying works; b) the long history of spray dryers in other industries (like food and pharma); c) the benefits of spray drying cannabis oils to powders to businesses at every stage of the supply chain; and d) the urgency of being an early adopter to get ahead of competitors.
We also created curated pages, sorted by application, for distributors, manufacturers, retailers, and growers. Each page took a deep dive into the specific benefits of spray drying technology for their industry. 
The data collection: With our ultra-optimized website, users soon began to find us organically! But every site visitor was a potential customer, and we needed to collect their data.

We included two powerful calls to action to achieve this:

1. Download a free copy of the Transforming Cannabis Guide: We know people love free! And folks in the cannabis industry love to learn about new opportunities in a rapidly evolving market. So, we included a visually striking option to download their very own, free guide. All we needed in exchange? Their name, email, and company (if applicable), so that we'd be able to follow up and market to them in the future.

2. 12-part Education Series: Each page also included a sign up box for our 12-week education series. We intentionally made this call to action more specific than a general 'subscribe to our newsletter' subscription, offering them weekly, education focused content over a 12-week period, in exchange for their name and email. 

The brand new website was 

launched on X, and had 3,374 views in the first X weeks.

""There's no shortage of websites and online content about the future of cannabis product production technology. Of all the sites I've seen, none compare to the one Journey designed and built for us TransformingCannabis.com . And it's user-friendly, so our entire team can seamlessly use and maintain it as well."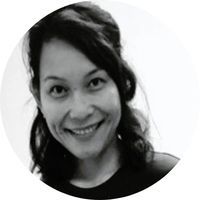 Marivic Lastimosa
Marketing Manager, Yamato USA
Finding the right people: While Yamato had a strong, existing audience list, Transforming Cannabis targets a whole new audience. We had to get creative to build a large list that would be interested in this new content.

A smart way to engage Yamato's existing audience: The Transforming Cannabis site was launched with an email campaign targeting the manufacturer's existing contacts. This allowed us to a) let everyone in Yamato's orbit know about the launch and b) segment their existing list to individuals interested in the cannabis market, by measuring click rates and opens. This allows us to target those individuals in future email campaigns, and avoid 'spamming' individuals who aren't interested in the cannabis industry in the future.
A whole new list: We created a curated, new list through ZoomInfo, populated with individuals we knew were interested in the cannabis market and sent these contacts a separate series of launch emails.


Building new contacts: To capture prospective purchasers' emails, we built a super-informative, attractively-designed permission asset with a compelling call to action. We also replaced the traditional, newsletter-style site subscription feature with a 12-part education series users could subscribe to, that rolls out weekly over 3 months. The content of the education series was written to meet the reader's expectations. It's not salesy. It contains one single call to action. And it focuses on the reader's education. This helps us build trust and brand recognition, inform users about a new product (spray dryers), and develop and maintain a strong email list.

12-part automated marketing: The education series is triggered to send automatically, once a week for 12 weeks, once a new subscriber signs up. By setting this process up on 'auto-pilot,' it's a pain-free way to engage with new subscribers. 

All email content was also analyzed by three industry-leading spam traps prior to send. This is especially important for content around cannabis, which can easily be flagged as spam by certain email hosting platforms. Our diligent testing ensured the emails we sent arrived in inboxes, as intended.

Overall, we wrote 18 targeted emails to segmented lists in preparation for the website launch. 
"The very idea for Transforming Cannabis started with Journey. When their team saw an untapped opportunity for us to establish ourselves as thought leaders in the emerging cannabis industry, they let us know about it. And then they made the idea a reality. They launched a brand new, cutting-edge website in just five weeks' time, including all brand design and content. Journey helped set Transforming Cannabis apart as a cannabis market leader."
Marivic Lastimosa
Marketing Manager, Yamato USA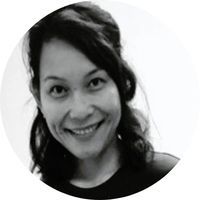 We dug into details and wrote a comprehensive series of educational blogs about the application of spray dryers, appealing to a range of users in the cannabis industry. Instead of using salesy language, the purpose of these blogs were to inform, educate, answer questions, and gently guide users to the spray dryer, a relatively new product in the cannabis industry.

To ensure each post had a higher likelihood of being seen and read by the right audience, we ensured each blog was packed with keywords that folks looking for innovation in the industry would type into their search engine, to optimize the blog, make it rank high in search engine results, and drive more traffic - and more potential customers - to the Transforming Cannabis website. It's a long-term strategy to capture and hold onto search results for high value keywords.

Topics included:

Why is spray drying better for my cannabis business?
The top 5 benefits of spray drying for THC & CBD oil
Transforming Cannabis

We also contacted leading cannabis-focused online platforms, like Cannabis Analytical, who were eager to feature our content to their users. This strategy helps boost the Transforming Cannabis site by a) informing their engaged networks about the new site and product and b) creating backlinks from other sites to ours, which helps enhance Google rankings.

Additional, monthly blogs will be added in 2022, to continue driving organic traffic to the site.

Overall, these blogs had a total of 86 readers in the X weeks since launch.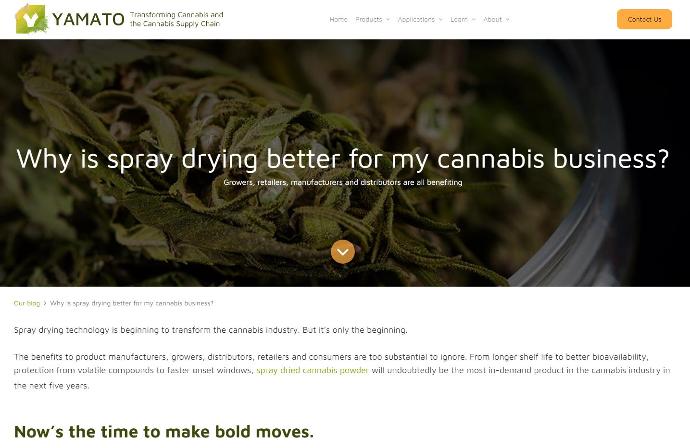 The new brand, new site launch, and all marketing efforts were complemented by a series of eye-catching posts on social media, using Yamato's preferred platforms of Facebook and LinkedIn. Each post incorporated the same familiar Transforming Cannabis design to build brand recognition, as well as short and snappy text to drive viewers to the new website, and encourage them to sign up for the Education Series.

The scroll-stopping graphics were created to stand out from the (dare we say it, mundane) lab equipment posts on social media, and served both as a reminder to those who received and read the launch emails, or as an eye-catcher to those unfamiliar with Transforming Cannabis.

We created a total of 39 social posts and graphics for the site launch.

---
3
NEW SITE LAUNCHED: CREATED, OPTIMIZED AND LAUNCHED WITHIN X WEEKS
The client was interested in new leads, so that was our primary key performance indicator (KPI). The campaign attracted 8 new leads in the first 4 days, primarily from the first campaign launch email (which went out to 100% brand new contacts). This represents a potential return on investment of 4700% in the first four days.
3374
PAGE VIEWS IN THE [X] WEEKS SINCE THE SITE WAS LAUNCHED
5331

EMAILS READ BY PURCHASERS
39

SOCIAL POSTS AND GRAPHICS CREATED FOR THE SITE LAUNCH
- Featured by leading cannabis platforms, including Cannabis Analytical

- Site content nominated for a Killer Content Award by B2B Marketing Exchange

"I can honestly say that there would be no 'Transforming Cannabis' without Journey. Their team worked tirelessly to plan and deliver a comprehensive, multi-faceted strategy to launch this new venture, and expand Yamato's reach to a new, promising market. From ideation to execution, Journey brought the Transforming Cannabis website, marketing strategy, and brand to life. Their dedication and wealth of knowledge go unmatched, and we look forward to celebrating the continued growth of Transforming Cannabis, with their support."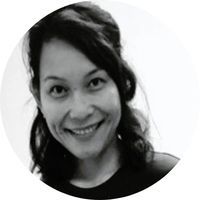 Marivic Lastimosa
Marketing Manager, Yamato USA